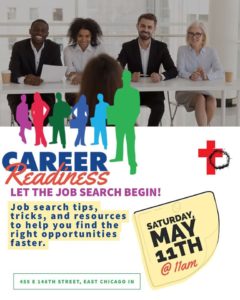 job fair
Have you ever been to a job fair that didn't offer anything that caught your interest? Well we would like to help! Unfortunately too many people have attended job fairs that they have been too qualified for or the jobs offered don't fit their skill set. In order for us to currate a job fair fit for the attenders, we need to hear from you.
Click here
to participate in our short survey about what you are looking for in a job and resources to attain it.
Food bank Mobile Unit
We are very excited about our partnership with the Food Bank of Northwest Indiana! We are looking for volunteers for the upcoming Mobile Site we are hosting.
I
deal candidates will be able to lift at least 10 pounds (8-10 people needed for this position) or can stand on and off for a period of 4-5 hours (8-10 people needed for this position). This event will take place on June 19th beginning around 2pm.
To sign up as a volunteer , click below.